Quinlan Bentley | News Director
As Ohio experiences a spike in hospitalizations not seen since the pandemic began in March, positive cases of COVID-19 continue to rise at the University of Cincinnati (UC).
The university has recorded 742 positive cases among members of the students body since campus reopened in August, according to the university's COVID-19 dashboard.
A total of 519 positive cases have been recorded among students living off campus and another 223 cases were recorded among students living in university housing.
There are currently 10 UC residential students living in isolation and 24 students living in quarantine. The university has a total of 247 beds available for quarantine and isolation.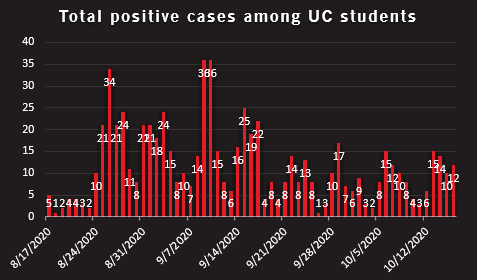 So far, 39 university employees have tested positive.
The university is recording a seven day moving average of approximately 10 cases per day.
Read on at U.C.'s News Record…